Akron Wildlife Removal
Professional Animal Control Solutions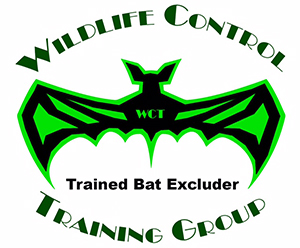 Licensed Wildlife Control Operators
Are you looking for animal removal services in Akron Ohio?
Animal Control Specialists LLC is a professional wildlife removal service here to help will all of your needs, no matter how big or small.
If a nuisance animal has disrupted your personal space or home, we know how difficult and damaging it can be.
Here at Animal Control Specialists LLC, removing animals and keeping them out with guaranteed animal proofing is what we do best.
We offer Akron wildlife removal assistance for both residential homes and commercial customers, as Ohio's wild animals will seek any structure to live inside.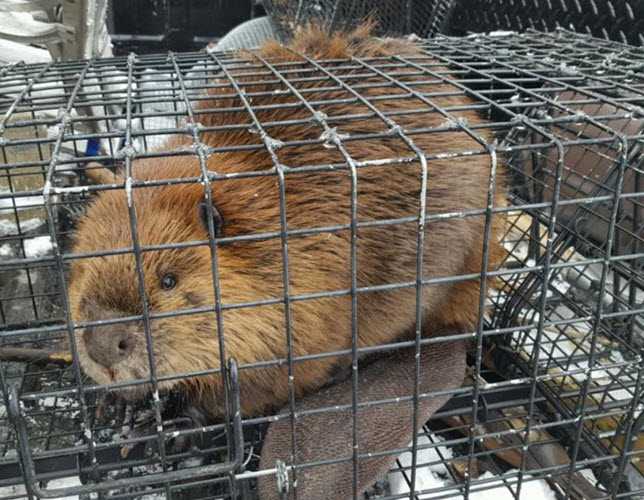 For domesticated animals such as dog or cat issues, please contact your county animal control department.
Depending on the type of wildlife problem, you may need animal control, a wildlife rehabilitation center or a wildlife control company like ourselves.
Summit County Animal Services (330) 643-2845

Medina County Animal Shelter (330) 725-9121

Portage County Dog Warden (330) 297-6924

Stark County Dog Warden (330) 451-2343
We provide Akron wildlife control services for all nuisance wildlife such as:
Bats
Beaver
Bees
Birds
Chipmunks
Dead Animals
Fox
Groundhogs
Moles
Opossums
Raccoons
Rodents
Skunks
Snakes
Squirrels
Wasps
We offer the most advanced wild animal control solutions in the industry.
Even when it comes to dead animals, the procedures that we use to locate the carcass come second to none.
Many times an animal can die under a deck, stoop or even behind a wall.
The odors can actually permeate the walls and support beams, leaving a long-lasting odor.
Springtime Akron bird control is another need that we service in high demand.
We get rid of bird from both residential homes and commercial properties. We differ from pest control companies in that we offer solutions, as opposed to treatments.
Our process boils down to getting rid of unwanted animals, repairing damages and animal proofing the home so that no future animals can enter.
For example, skunks removed from a property leave residual odors behind that will attract new animals to the vacant den site.
We create a barrier around these areas to prevent new wild animals from taking up residence.
Akron Bat Control & Home Exclusion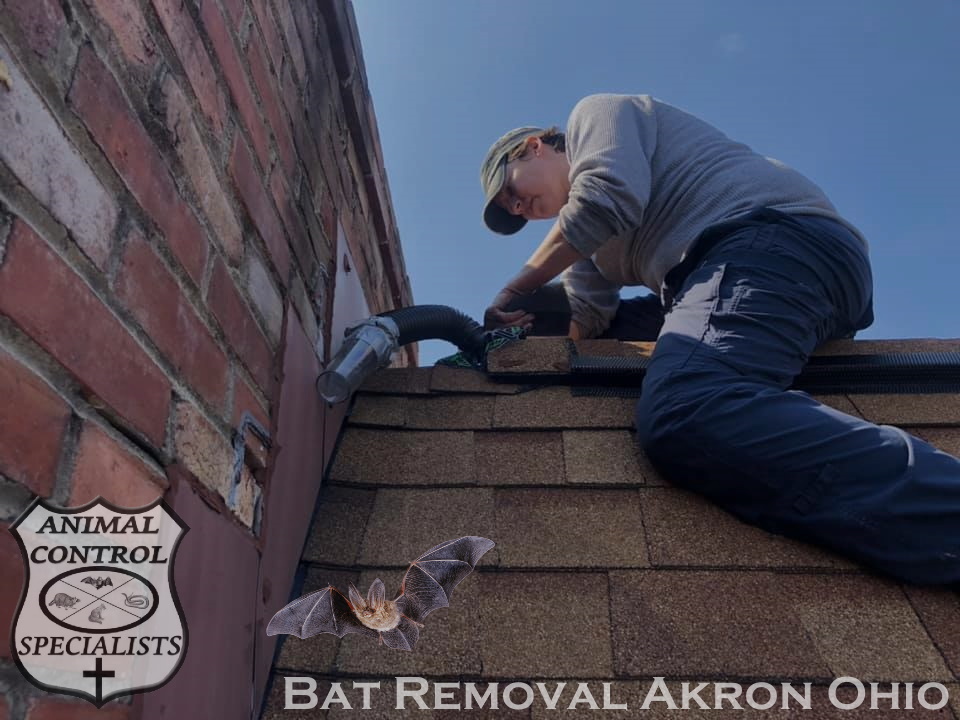 Bats in the attic typically do not directly cause physical damages to your home opposed to the way that squirrels and raccoons do.
However, they do cause damage inadvertently when their guano reaches large amounts that can weaken drywall and destroy attic insulation.
Bats also do not create entry points, they will find and exploit construction gaps on a home.
New or old, all homes have these bat entry areas because of the way homes are built without animal entry in mind.
We address damage repair needs from attic dwelling bats on the initial inspection and once we get rid of the bats with bat exclusion, we can begin the attic restoration and damage remediation process.
Our bat control is always done in a humane manner with devices or setups that allow the bats to fly out, but not re-enter.
Believe it or not, bats are a common animal species inside homes.
Signs that bats may be living in an attic are bat droppings (guano), stains and markings around gaps and cracks and the obvious, bats flying in and out of openings of the home.
If a large colony is present, odors from the bat guano can be noticed as well.
If you are looking for a price quote on bat removal, give us a call today. Our Akron bat removal services also include live bat removal from a loose bat flying around inside of a home.
Squirrel Removal Akron & Damage Repairs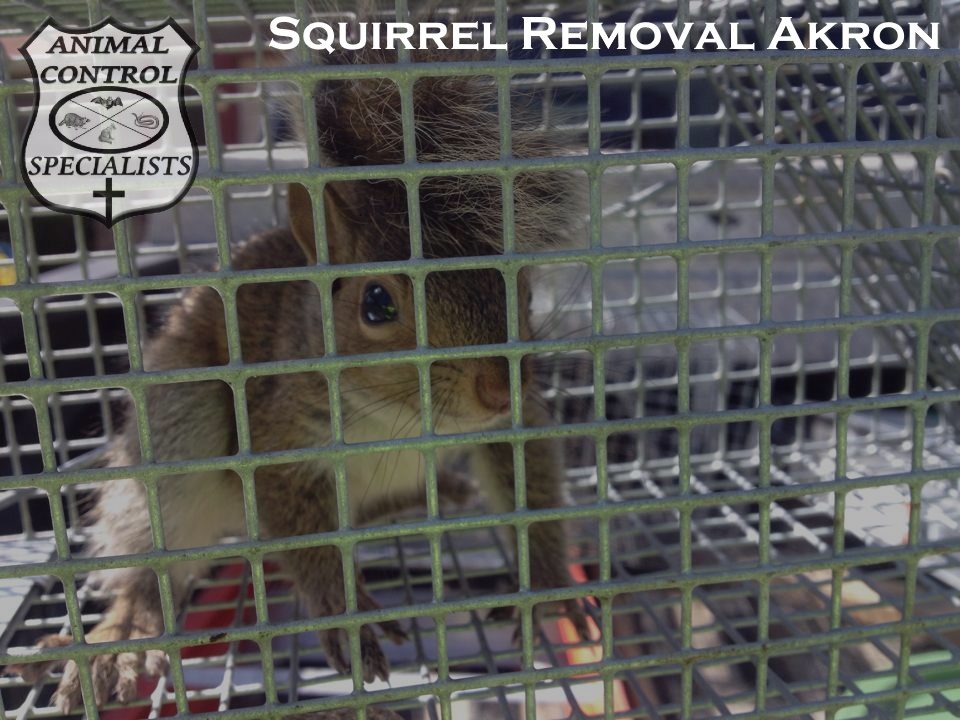 A squirrel's entry hole is typically in the most difficult to access area of a home. Hence why most people don't notice the opening or damages from creating the entry point.
If you search for "squirrel removal Akron OH", you may come across service providers such as a rodent exterminator.
This is an approach you do not want to take when trying to get rid of squirrels from an attic.
Our Akron squirrel removal services provided never involve poison.
Anytime pest wildlife decides to move into a human dwelling, they will cause damage.
Chewing, clawing or gnawing their way in immediately leaves a hole in your home that will allow the elements to penetrate.
A pest in the attic will also smash attic insulation, gnaw on wires and soil the area with feces or guano.
We provide removal regardless of what type of animal has broken into your home.
Our squirrel removal process starts with a home inspection, followed by trapping and completed with damage repair & squirrel proofing.
Raccoon Control Akron & Feces Removal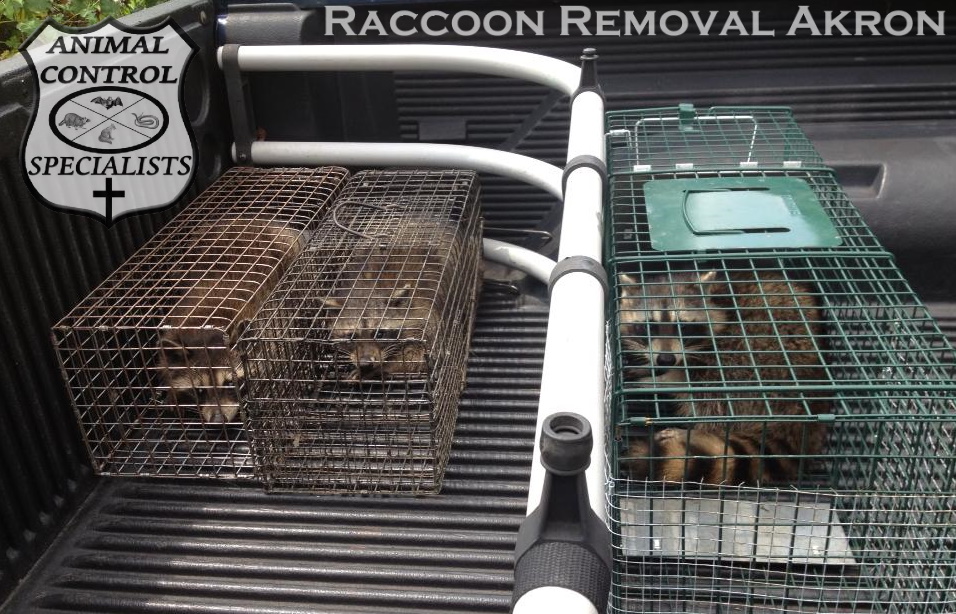 When it comes to Akron raccoon removal, we are your go-to specialists.
A raccoon in an attic can truly be a nightmare for a homeowner with the damages that they continually cause.
Raccoons are an Akron pest that presents the dangers of physical damage and disease.
Raccoons in an attic are notorious for smashing insulation, chewing support beams, opening up holes in your roof and even at times coming right through the ceiling.
The diseases and parasites raccoons present are a whole different issue.
Rabies and raccoon roundworm are both common in nuisance raccoons.
Once we have them trapped and removed, we can repair all damages caused by raccoons and also remove their feces which carries the raccoon roundworm parasite.
Raccoon removal should never be attempted by anyone without experience.
They are both physically dangerous and they are smart.
Attempting pest removal for nuisance raccoons without experience can educate the raccoons making more difficult and expensive if the help of a professional is later needed.
Also, there are laws regarding what happens to the animals removed.
They can not simply be taken away and released as a means of wild animal control.
We have experienced technicians that are well trained in getting rid of raccoons in all situations. Let us help if you are facing a raccoon problem.
As Seen On FOX, ABC, NBC & CBS News

We service all of the surrounding areas of Akron OH including:
Summit County
Medina County
Portage County
Stark County
Report Public Wildlife or Animal Issues (330) 375-2311 or 330-644-2293
To report dead animal that are on public property, injured wildlife in Summit County, dangerous animals in public places, a lost domestic animal or any situation outside of your Akron Ohio residence, call the appropriate Summit County animal control services:
Summit County Animal Control: (330) 375-2311
Ohio Wildlife Commission: 330-644-2293
Akron Ohio police department: 330-375-2552
All of these agencies deal with wildlife issues that affect the public along with animal encounter where public safety is at risk. These are free government services.
Depending on the type of wildlife problem, you may need animal control, a wildlife rehabilitation center or a wildlife control company like ourselves.
We do not offer pest control company Akron as that is bug extermination and poison. There is a vast difference between a pest control company and a nuisance wildlife control operator.
We offer humane wildlife control services and animal trapping, wildlife exclusion, animal damage repairs, attic restoration, custom animal control solutions and much more. However if you have a colony of bats living in the attic, noises of squirrels running overhead or raccoon damage then we are the professional wildlife control company for you.